Today marks the end of the annual Open Education Week – a time of global awareness-raising, training and outreach about Open Educational Resources (OER). At Mt. SAC we have a several initiatives that support the adoption and creation of OER, so let's take some time to briefly go over why OER are critical for student equity, success and access.
Textbook Price
Before we start, let's look at a book offered at our bookstore for a popular class. The cheapest version of this text is $114.29. Some texts run over $200!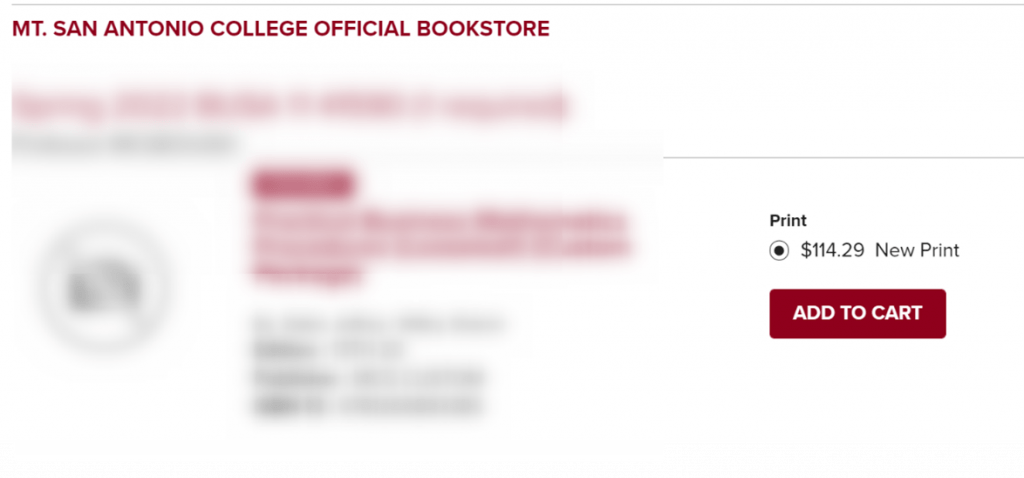 The Real Cost of Publisher Textbooks
US PIRG, a national organization for grassroots advocacy, reported that in 2020, 65% of students they surveyed said they didn't buy textbooks because of cost. In courses where assessments are based heavily on textbook content and over 50% of students aren't buying the text, this directly impacts student success.
Let's face it, a textbook that is almost more than course tuition is an equity issue. With rising inflation and costs as well as an estimated 1 in 5 students experiencing housing- and food-insecurity, adopting an OER relieves a huge financial barrier for our students. It is something that we can do to directly support student achievement and completion.
The real cost of publisher texts, in short, can go beyond one course that students take.
A Little More About OER
The term OER encompasses a wide range of materials – from peer-reviewed professionally developed academic texts like the OpenStax series – to videos and slidedecks that faculty and content developers decide to share with others. OER are offered under various Creative Commons licenses, meaning that there are numerous ways to use, adopt, adapt, and share materials. Unlike traditional publisher textbooks, if there is something we want to add or change in a course material/resource, many OERs are licensed to allow us to do so. And, yes, the best thing is that they are free! Free for us and free for our students.
OER @ Mt. SAC
It can be daunting to think about creating or even vetting OER. However, there are many resources available for all of us. At Mt. SAC we have the Library Initiative for Equitable and Affordable Learning (LIEAL), spearheaded by 4 Librarians with a vast depth of expertise of OER resources and strategies for incorporation in various disciplines. Be sure to look out for LIEAL's Communities of Practice this term! We also have Instructional Designers in the FCLT who can point us to additional resources in the Canvas Commons and how to use various tools to incorporate and deliver these materials in our classes. (Pro-tip: Search for CVC-OEI Open in the Canvas Commons for a range of adaptable pre-built OER Canvas course shells.)
As we come to a close of Open Education Week 2022, we have a great opportunity to 'open' a new chapter when it comes to our course materials – making them affordable and equitable for our students!